Add to my Reading List

Remove from my Reading List
News Article
Hyundai Motor to integrate green energy into Charge myHyundai service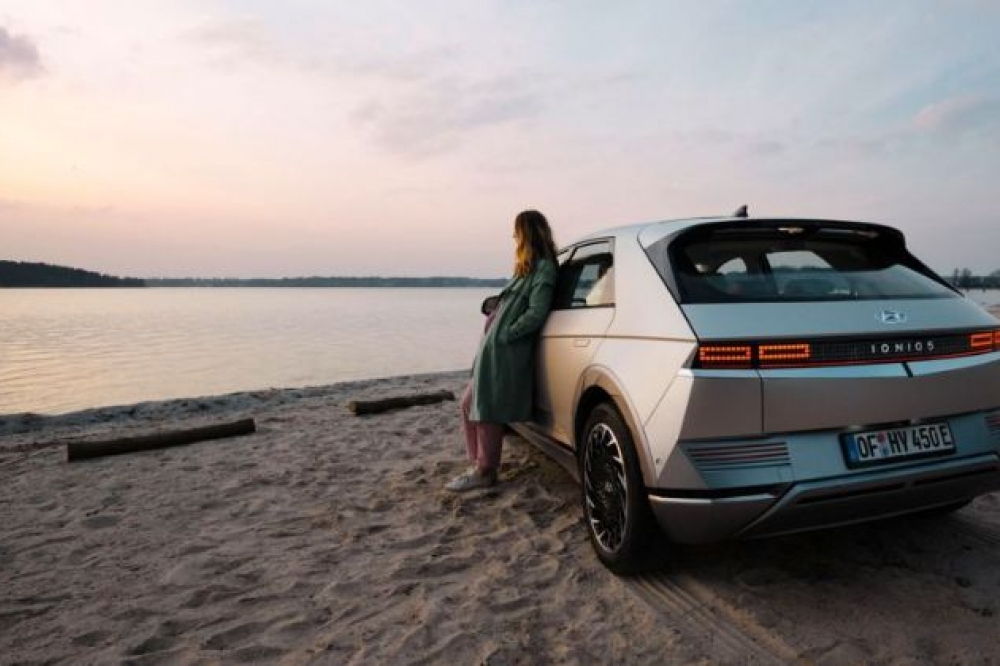 Hyundai Motor has announced that it is integrating green energy into Charge myHyundai. Using the e-mobility service provider Digital Charging Solutions' (DCS) green charging option, the company will ensure that, for every charge undertaken by customers via its pan-European integrated public charging service, the equivalent amount of energy is fed back into the grid as green electricity. With this commitment, Hyundai is among the first OEMs to offer environmentally-friendly public charging.
When charged with renewable energy, battery-electric vehicles (BEVs) such as IONIQ 5 produce up to 81 per cent lower well-to-wheel lifecycle emissions compared to a normal ICE vehicle, according to a 2021 study from the International Council of Clean Transportation.
However, drivers often do not know whether a public charging station sources green electricity or "grey" electricity from non-renewable resources, as this responsibility falls to the operators of the facilities.
Hyundai is committed to using so-called Guarantees of Origin (GO) to claim the green attribute for the energy of every charging session. This ensures that, for each charging occasion via Charge myHyundai, the equivalent amount of energy generated is fed back into the grid as green electricity.
Green energy suppliers generate zero-emission energy using natural resources such as wind or solar power, which is then converted into electric energy. An independent registry authenticates the green origin of each unit of power produced, measured in MWh, by issuing a GO certificate.
With this announcement, Charge myHyundai users can not only expect to charge their electrified Hyundai models in an environmentally-friendly way - they will also contribute to clean and sustainable mobility by increasing the share of renewable energy generation on the European market.
Michael Cole, President and CEO of Hyundai Motor Europe: "Hyundai is among the first OEMs to offer green public charging in Europe. By integrating energy from renewable resources into Charge myHyundai, Hyundai is contributing to clean and sustainable mobility for everyone. This guarantees a healthy future for generations to come, in line with our Progress for Humanity vision."
ann, CEO of Digital Charging Solutions: "We as DCS are a key driver for the future of sustainable mobility worldwide. By working with 'GO' certificates we guarantee that 100 per cent of the energy consumed during each charging process is fed into the power grid as electricity from European wind turbines. That makes the demand for green electricity visible on the market and helps to pave its way."

Charge myHyundai - the fastest-growing charging network in Europe
In partnership with Digital Charging Solutions (DCS), Charge myHyundai gives drivers access to one of the world's largest public charging networks with over 300,000 charge points across 29 European countries. Users of the pan-European integrated public charging service have access to charge points from all the main operators via a single platform for simpler and easier use.
Charge myHyundai users can access charging stations conveniently with the Charge myHyundai charging card or the Charge myHyundai app. No additional contracts with other providers are necessary, as payments are made via a single monthly invoice.
An additional benefit of Charge myHyundai is access to IONITY, a pan-European integrated public charging service with more than 1,600 high-power charge points across 24 European countries within the IONITY network. The high-speed 350 kW chargers support IONIQ 5's ultra-fast charging. Therefore, Charge myHyundai enables an easy and convenient charging experience for all drivers that will now be enhanced by green charging.
Charge myHyundai is available to Hyundai customers who drive BEV and plug-in hybrid (PHEV) models, including IONIQ 5, KONA Electric, IONIQ Electric, TUCSON Plug-in Hybrid, SANTA FE Plug-in Hybrid and IONIQ Plug-in Hybrid.
Charge myHyundai is currently available in 15 European markets: Austria, Czech Republic, Denmark, Finland, France, Germany, Italy, the Netherlands, Norway, Poland, Slovakia, Spain, Sweden, Switzerland, and the United Kingdom.
Another step on Hyundai's path to carbon neutrality by 2045
Last September, Hyundai Motor Company announced its commitment to achieving carbon neutrality by 2045 at IAA Mobility 2021. The company's integrated strategy to achieve carbon neutrality rests on three pillars: clean mobility, next-generation platforms, and green energy.
As part of this approach, Hyundai aims to provide cleaner and greener energy solutions for all, including reducing the amount of carbon and other greenhouse gas emissions produced by its manufacturing processes.
In July, Hyundai teamed with other affiliates of Hyundai Motor Group to join Climate Group's RE100, a global initiative committed to moving toward 100 per cent renewable energy. Under the commitment, the Hyundai Motor Manufacturing Czech (HMMC) plant will become the company's first factory to completely convert its electricity usage to renewable energy later this year.
About Digital Charging Solutions
Digital Charging Solutions GmbH (DCS) develops charging solutions for automobile manufacturers and fleet operators, making it one of the world's most important drivers of the transition to electromobility. The full-service white label solutions of DCS allow OEMs and fleet operators to realise their electromobility strategies, because with integrated digital solutions, the company makes charging at charging stations easy, safe and comfortable. In the process, with over 300,000 charging points in 29 integrated markets, as well as transnational charging, DCS boasts the fastest-growing charging network.
---