Add to my Reading List

Remove from my Reading List
News Article
Transportation's upcoming "Triple Disruption"

Mark Thomas, VP of Marketing and Alliances, Ridecell
Every day in the news we read about advances with autonomous vehicles, electric cars, and on-demand ride hailing services. Individually, these technologies are groundbreaking. But all three together are poised to completely disrupt our daily travel routine.
Today's on-demand ridesharing services are convenient. Press a button on your smartphone and get a ride to wherever you're going. Unfortunately, they can also be expensive. In all but the most expensive cities, a ride costs 2-3 times more than using your own car.
Triple Disruption
When autonomous cars are reliably able to drive without a driver, this new technical capability will create a major disruption for today's ridesharing companies. Paying drivers is the single biggest cost of offering on-demand rides. Removing the driver will bring the total cost down to below the cost of driving your own car. Converting the vehicle fleet to entirely electronic vehicles (EVs) will further reduce cost of operations. Estimates put EVs at 10 cents per mile less expensive compared to vehicles with an internal combustion engine. These three technology trends coming together—adding EVs and autonomous vehicles to existing ridesharing services—will bring the total cost down from $1.50 per mile today to 25 cents per mile in the future. At this price it's half the price of driving your own car!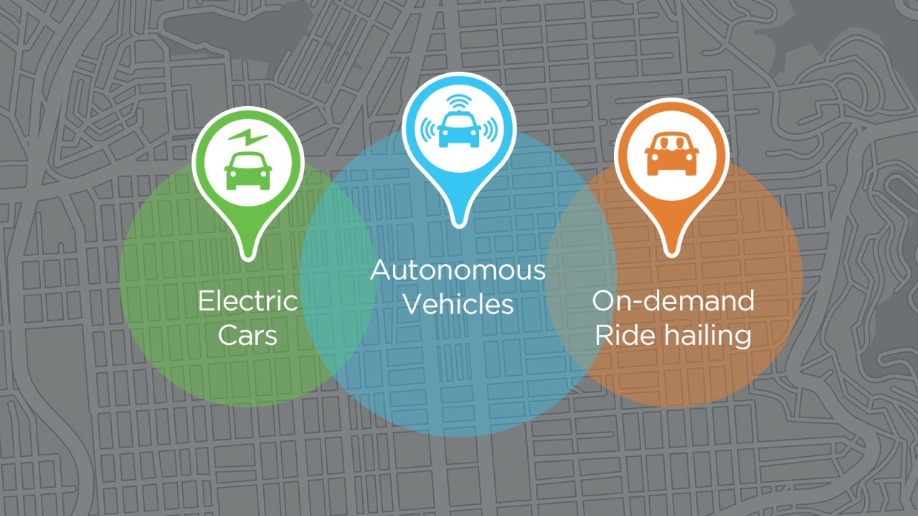 Mobility as a Service
Few people today buy CDs or DVDs anymore. It's just much simpler to press a button and listen (or watch) what you want. Similarly, when the cost of mobility as a service becomes significantly less than the cost of using your own vehicle, we'll see a dramatic shift in consumer attitudes towards vehicle ownership. Deloitte predicts that sometime between 2025 and 2030, there will be more vehicles in the US urban areas sold to ridesharing fleets than to private individuals.
Economic value creation
With this triple transformation, the economic value creation will transition from the business of selling cars to the business of offering mobility as a service. In fact, ARK Investments estimates that in 2030, the value of mobility as a service companies will be six times the value of auto manufacturers today. These future mobility service providers will benefit from triple disruption to create new revenue streams and consumer offerings.
Get started now
Ridesharing companies have clearly established the viability of on-demand rides worldwide. These companies have mastered the most expensive component of their cost structure: recruiting, on-boarding and managing drivers. With the addition of EV and autonomous technologies to on-demand ride services —the triple disruption—this expertise in driver management will greatly diminish as a competitive advantage. Expertise in managing fleets of vehicles themselves, rather than relying on drivers, will emerge as the great strategic differentiator for mobility as a service vendors.
To position themselves for the mobility as a service future, forward-thinking car manufacturers and other automotive operators are experimenting with carsharing services today. Carsharing services are accelerating the learning curve for these companies as they refine their service offerings, demand pricing, vehicle positioning, and fleet management strategies. This hard-won knowledge will build strong brand and operational differentiation as autonomous EVs become the dominant mode of urban transportation worldwide.
How Ridecell helps
Ridecell offers automotive companies a ready-built, proven software platform to manage ridesharing or carsharing services today. By eliminating the time and cost to build and test their own software platform and user app, Ridecell enables mobility vendors to launch their unique branded carsharing, ridesharing, or combined services within months, speeding the acquisition of critical strategic knowledge in physical fleet operations management, demand pricing, user relationships, alliance building, and vehicle maintenance.
By helping companies build their own brands and operational expertise, Ridecell offers its customers a strategic advantage as they prepare for the coming triple disruption of the transportation industry.


The 2nd Transportation-as-a-Service (TaaS) Technology event is taking place in Birmingham, UK at the National Motor Cycle Museum on the 4th and 5th June 2019. Our annual event will draw 600+ senior decision makers from along the entire value chain of the Connected and Autonomous Vehicles (CAVs), Electric Vehicles (EVs), Energy/Battery, Charging, Infrastructure and Future Mobility industry.
Our 2019 event will include 2 co-located conferences
TaaS Technology - 'CAVs and Future Mobility' conference and exhibition will be dedicated to covering the key topics of the CAVs, Future Mobility and TaaS industry.
Key topics covered: https://www.taas.technology/cavs/topics
TaaS Technology - 'Energising Future Mobility' conference and exhibition will be dedicated to covering the key topics of the EVs, Energy/Battery Technology and Infrastructure industries.
Key topics covered: https://www.taas.technology/energy/topics
2 co-located conferences, 1 ticket, 1 exhibition.
The TaaS Technology conferences will bring together international experts for two days of in-depth discussions and exhibits focused on the opportunities and challenges of a mobility future that leverages CAVs, EVs, Battery/Energy, Charging, Infrastructure and TaaS technologies.
Attendees to the event can purchase one ticket to have full access to both conferences. Attendees will hear industry-leading insiders delivering more than 80 presentations spanning all the key topics. The conference will equip the delegates with an up-to-date overview of the status of the CAVs, EVs, Energy/Battery, Infrastructure and TaaS industry, and provide them with many opportunities to meet other key players within this community.
Speakers and sponsors will have a unique opportunity to access 2 individual but related audiences in an intimate environment - there will be lots of opportunity at the conference to make some fantastic connections and also potential business partners.
The event is being organised in partnership with Coventry University and WMG, at the University of Warwick and has already attracted an array of leading international experts.
Speakers already confirmed at this early stage, so far include: Autocab, AVL, Beryl, Bloomberg - New Energy Finance, BP, ChargeMaster, Claytex, Cube Intelligence, Department For Transport, Element Energy, free2move, Green Mobility, Hewitt Studios, iomob, ION Energy, LimeBike, Power Hydrant, Ridecell, TomTom, Uber, what3words
With only a maximum of 250 delegate places per conference and 40 exhibitors, the conference will sell out fast. Make sure you book your place as a delegate or a speaker/sponsor as soon as you can. https://taas.technology



---